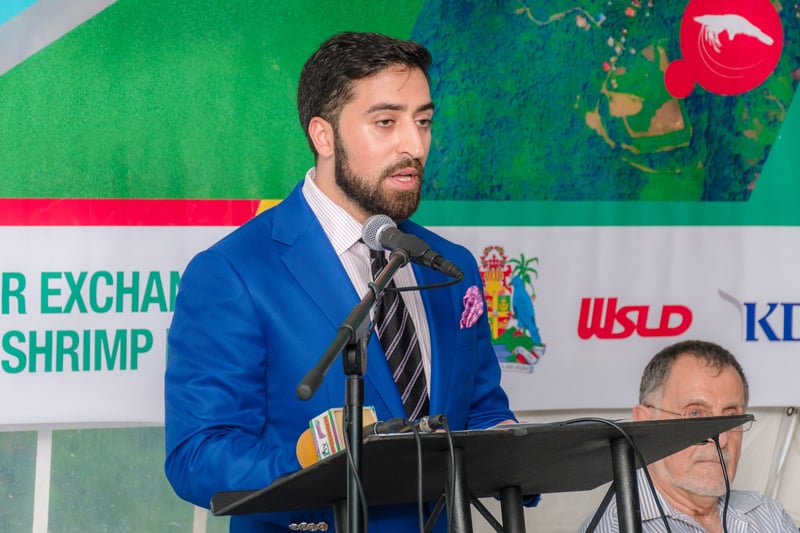 This is a very exciting time for Grenada's Citizenship by Investment Program. On February 27, 2017, Grenada Sustainable Aquaculture (GSA) management and Grenada government officials came together at a ground-breaking ceremony to launch the project. They made a joint statement:
"The GSA project (Grenada Sustainable Aquaculture) will position Grenada as a leader in the future of high-tech aquaculture worldwide. GSA looks forward to the prosperous future and would like to extend their heartfelt gratitude to the Government of Grenada and add a special thank you to Honorable Prime Minister, members of Parliament, and everyone who contributed for all the support for our Zero-water Exchange Organic Shrimp Farm in Victoria, St. Mark, Grenada."
The project, known as "The Zero-Water Exchange Sustainable Organic Shrimp Farm" was launched at Bocage on the west coast of Grenada. It will specialize in shrimp production that is free of antibiotics, chemical additives, and enzymes. This environmentally and socially friendly process will lead the way in worldwide, high-quality production.
Grenada's Prime Minister, the Rt. Hon. Keith Mitchell, said the project means a lot to the government and that its potential could not be underestimated. The Hon. Alvin Dabreo, the minister responsible for Fisheries, told the GSA team that the government and the people of Grenada "are ready to work with you and support you."
The GSA Concept
Grenada Sustainable Aquaculture will scale offshore fish production to over 8,000 tons a year of sashimi-grade fish, beginning with shrimp. The fish will be sold to regional resorts, to the booming South American market, and to North American distributors to capitalize on the $20.2 billion US imported seafood market.
GSA management says this project will be a model not just for the Caribbean, but for the rest of the world. The first shrimp barn will be operational by the end of this year, and more will be built by the end of next year.
The venture has been planned in such a way for it to continue indefinitely. It will be synergistic with the existing fishing and tourist industries. The company's employment focus is on local skills. Grenadians will be trained in the specialized technology. Many of them will be able to attain scholarships, attend university, and become fully qualified in this exciting new field. Each of the initial two plants will employ 75 people. The Minister stated that initially employing 150 locals from St. Mark parish is a sign of "divine intervention."

Project Profitability
The project is tailored to be cash-flow positive in three years, and to produce a consistent annual return. Grenada has sound transportation infrastructure. Each farm should produce annual revenues of $150 million, equivalent to about 9% of current Grenada GDP. Typical economic multipliers will deliver an even greater return.
Investors can expect:
Higher returns than in real estate

A 5-year guaranteed investment buy-back

Intellectual Property (IP) development

Continued strong government support
Want to see more? Check out a video from the event below!
Grenada's Citizenship by Investment Program
Grenada's CIP program was ranked one of the top five such programs. It is common for high net worth individuals seeking global citizenship to invest in real estate that is often tied to the tourist industry, or to purchase government bonds.
The GSA project is unique. Investors can expect to receive their and their family members' citizenship within 60 days.
Benefits of Grenada Economic Citizenship
There are many advantages and benefits for Grenada passport holders. Citizenship can be expected, as has been mentioned, within 60 business days of investment approval and application receipt. Benefits include:
Generous business incentives

No restriction on the repatriation of profits

No income, capital gains, wealth, gift, or inheritance taxes on foreign-held assets

No exchange control or other restrictions on cross-border flow of US dollars

E-2 Treaty Investor Visa agreement with the USA, which enables Grenada citizens to own and operate an approved business in any of the 50 states, thus enabling conditional US residency

The right to live and work in any CARICOM member state

Visa-free travel to more than 120 countries, including Commonwealth countries, Schengen states, and others such as Switzerland, Hong Kong, Mainland China, and Singapore
The Takeaway
The GSA project is a first-class investment opportunity. It guarantees investment buy-back, strong profitability, the potential to lead the world in sustainable aquaculture, and full citizenship in a few weeks.
This is the time to explore this exciting opportunity and to learn all you need to make a sound decision about obtaining Grenada economic citizenship. To learn more about the program, please contact us to arrange a free initial consultation. We would be happy to answer your questions and to advise and support you from start to citizenship.