We've recently returned from the 2nd Annual Cyprus Investor's Summit, which took place on September 11-13th in Limassol, Cyprus. The summit showcased new investment opportunities in Cyprus's property, real estate and leisure markets. Attendees included institutional investors, investment firms, real estate agents and lawyers, citizenship specialists, family offices, property/leisure fund providers, and the international media from the Middle East, Asia, Africa, Europe and the USA.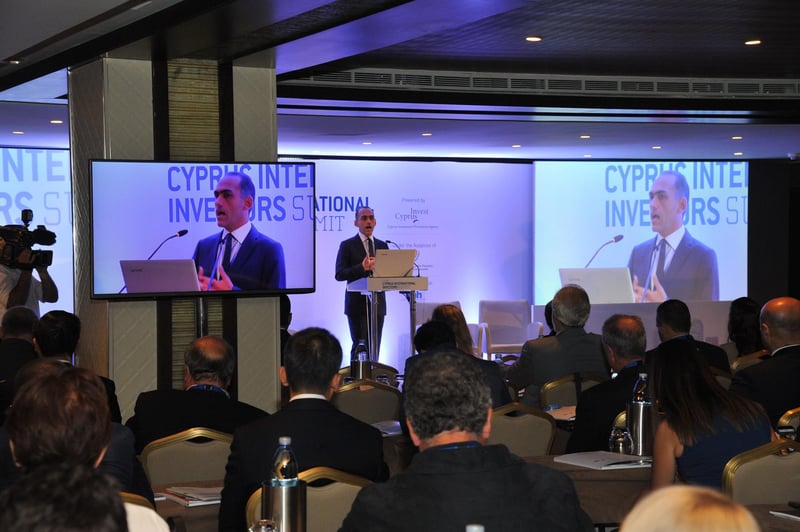 (Mr. Harris Georgiades - Minister of Finance of the Republic of Cyprus)
Garnering international praise, Cyprus has experienced spectacular economic growth in recent years. This is evident in key macroeconomic indicators including GDP, national debt, and unemployment rates. Forecasts suggest a continuing positive growth rate of about 3% for 2017-2021. With the Cyprus real-estate market continuing to stably flourish and grow, The Summit provided a timely opportunity for key companies and individuals to network and conduct business.
Overview of the Cyprus Citizenship by Investment Program:
When it comes to securing a second citizenship by investment, Cyprus is considered the crown jewel of all programs. The most desirable and fastest citizenship by investment program in the EU, Cyprus is a beautiful country with many business, tax and travel opportunities in the European market.
Requirements of the Cyprus Citizenship by Investment Program:
Clean criminal record
Ownership of a permanent private residence in Cyprus with a purchase price of at least €500,000 (plus VAT)
Investment of at least €2m (plus VAT where applicable) in one of the qualifying categories
Residence permit in the Republic of Cyprus application can be in parallel with the citizenship application (in the event that the applicant is not a holder).
Benefits of the Cyprus Citizenship by Investment Program
Simple and fast process for obtaining a residence permit and citizenship (about 6 months)
No physical residency requirements
No language test
No nationality or religious restrictions
The Initial required investments can be liquidated after 3 years
Naturalization applies to immediate family (children and parents)
Favorable tax regime (12.5% corporation tax rate)
Provides an EU membership and access to EU market
Strategically located at the crossroads of Europe, Asia and Africa
Solid and transparent legal framework based on English Law
Valuable professional services and educated, skilled workforce
Benefits of Living in Cyprus
High quality of life
Abundant natural beauty including beaches, lakes, mountains, waterfalls
Rich history and culture
Political stability and low crime rate
English-speaking population
Renowned educational institutions
Modern infrastructure
Convenient travel with two international airports
For more information about the Cyprus Citizenship by Investment Program, please contact us today!