Antigua and Barbuda are neighboring islands nestled between the Caribbean Sea and the Atlantic Ocean. Called the "Land of 365 Beaches," these twin beauties offer the best of their namesake beaches with white sands and crystal waters, tropical rainforests, coral reefs, exotic fauna, and a rich cultural history.


When you visit Antigua and Barbuda, there are 5 main areas to discover:
Areas to See When Visiting Antigua and Barbuda
1. English Harbour
When you're ready to take a break from the beaches for a rich dose of culture, history and the island's top sites, English Harbour is the perfect place to go.
This historical area serves as a reminder of Antigua's colonial roots. Home to ancient forts, ruins, cannon, the only surviving Georgian naval dockyard, a museum and faithfully restored buildings, English Harbour truly gives you a glimpse into Antigua's beginnings.
English Harbour also offers a variety of restaurants, art galleries, boutiques, yacht charter companies, and serves as the headquarters for the annual Antigua Sailing Week Regatta.
And once you've explored all there is to explore, don't miss Sunday's unforgettable parties at the Lookout on Shirley Heights.
2. St. Johns - the capital of Antigua and Barbuda
The capital city of Antigua, St. John's is truly the heart of the island.
Offering a variety of dining and entertainment options, hotels, shopping areas, local markets, and preserved historical buildings, life definitely moves at a faster pace here.
Whether you are looking for fresh Caribbean fruit, artwork, leather crafts, you can find a locally-sourced keepsake in St. John's markets. If you're in the mood for a more cultural day, visit Fort James, the Museum of Antigua and Barbuda, war memorials and the government house, or St. John's Cathedral. Or, if you're the adventurous type, St. John's offers safari tours, helicopter rides, kitesurfing, or hiking the megaliths.
3. Mount Obama - the highest peak in Antigua
Formerly known as Boggy Peak, the mountain was renamed in 2009 in honor of Barak Obama.
A nature lover's paradise, Mount Obama is characterized by lush rainforests, stunning mountains, and underwater reefs. It's the perfect place to embark on whatever outdoor adventure suits your tastes, from scuba diving to hiking, snorkeling to zip-lining, beachcombing to beautiful walks.
4. Non-Such Bay
If you're looking for the most untouched, virgin stretch of paradise, look no further th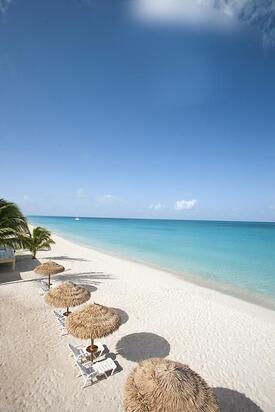 an the Eastern side of Antigua. It's the perfect place to go exploring and enjoy the tranquil solitude of paradise.
Amidst raw nature, discover a donkey sanctuary, impressive historical runs, colonial-era churches, and Harmony Hall – a great house that includes a restaurant, craft shop and art gallery.
Paradise awaits you in Antigua and Barbuda, where the views are breathtaking, the beaches are picturesque, and the culture is rich in history.
Contact us today to apply for Antigua and Barbuda citizenship by investment opportunities on these beautiful twin islands!
Photo by: www.pinterest.com