Limited time offer valid till November 2018
The investment required for the National Development Fund (NDF) donation was reduced for a limited time (1 year), and it will be US$100,000:
Family of 4: US$100,000 donation / US$25,000 processing fee
Family of 5 or more: US$100,000 USD / US$25,000 processing fee / US$15,000 additional processing fees for each person beyond 4
The due diligence and other fees applicable to the program will remain the same.
---
Antigua and Barbuda is a twin island nation located between the Caribbean Sea and Pacific Ocean, approximately 2100 km Southeast of Miami. The islands became an independent state within the Commonwealth Realm system on November 1, 1981, with Elizabeth II as the first reigning queen of Antigua and Barbuda.
With a combined size of 442 km2 and a population of over 80,000 people, the islands of Antigua and Barbuda are the 9th largest country in the Caribbean.
The Antigua and Barbuda Citizenship by Investment Program was established in 2012 under the Antigua and Barbuda Citizenship by Investment Act. It is one of the newest economic citizenship program in the world.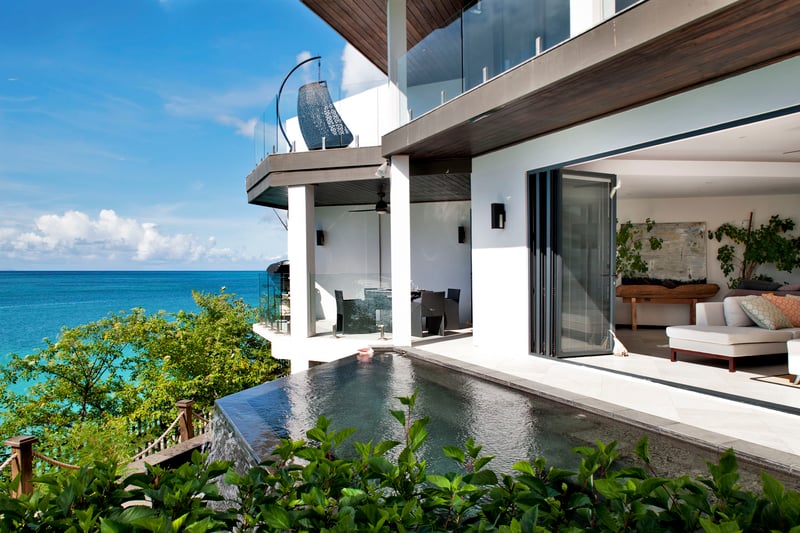 The Antigua and Barbuda citizenship by investment program facilitates visa-free travel for you and your family throughout the world to over 131 countries. Plus, Antigua and Barbuda recognizes dual citizenship, which gives you significant benefits when it comes to business expansion and tax relief.
Antigua and Barbuda have the fastest growing economy in the Caribbean with a 2015 GDP growth rate of 5.4%. Its public debt to GDP has almost halved in the past few years.
The country has taken an aggressive approach to growing the economy, by attracting outside investment. The national airport is being expanded with the intention of increasing scheduled, charter and private flights. There are now direct flights from New York, Miami, Toronto, and London.
The country is a constitutional monarchy, and parliamentary democracy. Its currency is the East Caribbean Dollar (ECD), which is pegged to the US Dollar. All monetary figures shown in this chapter are US Dollar amounts.
The country is a member of a number of international organizations, including the Commonwealth of Nations, the fifteen state Caribbean Community and Common Market (Caricom) the Organization of American States (OAS).
Benefits of Antigua and Barbuda Citizenship
There are many benefits to residence and citizenship, not least of which, that the country is considered one of the most beautiful in the world. Other benefits include:
The right to live permanently in the country
The right to pass citizenship on to future filial generations
Visa-free travel to 131 countries, including the European Union, Schengen Area, and other Commonwealth nations
The opportunity to receive a 10-year visa allowing multiple entries into the USA
No capital gains tax or estate taxes, advantageous income tax levels of from 10% - 25%
No tax on worldwide income for citizens who are not permanently resident (i.e. for more than 183 days in any calendar year)
Corporate tax concessions and tax holidays on profits of up to 20 years, including a waiver on import/export duties
The advantages of dual citizenship, where permitted by the citizen's country of origin
The right to vote

Who is qualified to apply?
To qualify, applicants need to be of outstanding character and meet the following requirements:
No criminal record
Excellent health
High personal net worth
The applicant and their family must stay in Antigua and Barbuda for a minimum of 5 days within 5 years
Choose from 1 of the 3 available investment options
NB:

The following groups will be excluded from the program and cannot qualify:
Citizens of the following 6 states: Afghanistan, Iran (if they currently reside in that country) Iraq, North Korea, Somalia, and the Yemen
This rule may be lifted for the benefit of such citizens who presently reside in Canada, the USA, or in Western Europe, provided they also meet the high standards set by the process of due diligence
Anyone who has changed their name
Investment Options in the Antigua and Barbuda Citizenship by Investment
To qualify for citizenship, an investor must meet the application requirements and participate in one of the investment options in Antigua and Barbuda citizenship program:
Option 1: Real Estate Investment
An investor much purchase property that for at least USD 400,000 in a pre-approved real estate development area. The property must be owned and maintained for a minimum of 5 years.
Property registration, processing fees and taxes must be paid in addition to the property purchase. Each applicant included in the application must also pay government, due diligence, and legal/advisory fees.
Option 2: National Development Contribution or Charitable Donation
High net worth individuals may also choose to make a monetary contribution of USD 250,000 to the National Development Contribution or an approved charity.
There are two categories within the National Development Fund:
USD 200,000 for a family of up to four
USD 250,000 for a family of five or more
The investor should pay separately the government fees, due diligence fees, and the legal/advisory fees applicable to this investment option.
Option 3: Establish Business
An applicant may invest USD 1,500,000 to establish a business and qualify to apply for citizenship. Additionally, two or more applicants may invest no less than USD 400,000 each, but a total minimum of USD 5,000,000 as a joint business investment.
Government
Application Fees
In addition to the investment amount, an applicant will also be required to pay the following fees, depending on the number of applicants:
Main applicant and a family up to 4 – US$50,000
Family of 5 or more– US$15,000 for each additional dependent
Due Diligence Fees
• USD 7,500 Main Applicant
• USD 2,000
Dependant between 12-17 years
• USD 4,000
Dependant between 18-25 years
• USD 4,000
Dependants over 65
* Dependent children below 11 years old do not pay government application fees or due diligence fees. Biometric Passport fee is USD 300 for each dependent included in the application.
NB: BulCan Consulting Inc. (High Net Worth Immigration) is an approved Representative and Service Provider of Antigua and Barbuda Citizenship by Investment Program.
---