The Grenada Citizenship by Investment program is one of the simplest and quickest routes to obtaining dual citizenship, a passport offering extensive visa-free travel, and financial confidentiality in a secure tax-free jurisdiction.
Grenada has an established reputation within the global community, so applicants can be assured of the security of their investments.
Furthermore, there are no residency requirements in Grenada's program, allowing for all the benefits of dual citizenship while not requiring major changes in the investors' lifestyle or that of their families.
Grenada has an established reputation within the global community, so applicants can be assured of the security of their investments.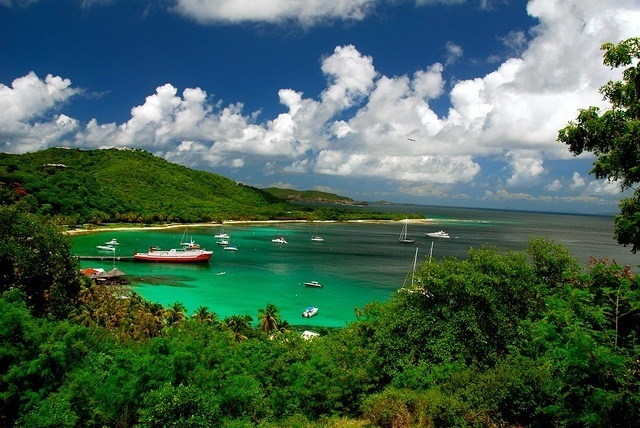 Photo by Pure Grenada
Why Choose Grenada?
Grenada, known as The Isle of Spice, is in the Southeastern Caribbean. The country is made up of 3 primary islands, Grenada, Carriacou, and Petite Martinique. It enjoys a tropical climate, cooled by the Trade Winds.
Its economy, which the IMF has forecast to grow 3.1% in 2015, is based primarily on agriculture, tourism, construction, and medical education. Financial services are also becoming a more prominent part of the economy.
Economic growth in Grenada will remain stable over the next 10 years, benefiting from a strong tourism sector, as per the BMI Research (a Fitch Group company). The forecast growth over the next decade will be average of 2.3%.
As per the same source, the real GDP is to grow 3.3% in 2017.
The Eastern Caribbean Central Bank (ECCB) recently stated that the island's economy is the best performing amongst the Organization of Eastern Caribbean States (OECS).
Grenada's currency is the Eastern Caribbean Dollar, pegged to the United States dollar.
Grenada is a constitutional monarchy, and has Her Majesty Queen Elizabeth II as its head of state. It is a stable parliamentary democracy and is a member of the Commonwealth of Nations. Its population is considered highly educated. Its national language is English, although many people also speak a French patois.
The island enjoys fast Internet, and wide-ranging cell phone services.Grenada's banking system is stable, and enjoys the fact that many Canadian banks have opened branches there.
The Benefits of Grenada Citizenship
Grenada offers many benefits to its citizens, including:
The application process is confidential.
Ease and rapidity of results: Citizenship can be obtained within 4 months of application submission
Inclusion of family members: Spouses, dependent children under the age of 25, and dependent parents over the age of 65 can also receive citizenship, with the payment of additional fees
The right to live and work in Grenada but with no minimum residence requirements
The right to live and work in any CARICOM member state
Visa-free travel to more than 115 countries, including those in the Commonwealth of Nations, and the Schengen Area, as well as international business hubs such as Switzerland, Hong Kong, Singapore, and China
Grenada has an E-2 Treaty Investor Visa agreement which enables citizens to own and operate an approved business venture in the USA, and so, attain conditional residence there
No exchange control or other restrictions on the inward or outward flow of US dollars
Ability to hold dual citizenship if the country of origin allows such a status
No wealth, inheritance, gift, income or capital gains taxes on foreign-held assets
No restriction on the repatriation of profits
Generous business incentives such as full exemption from import and export Duties
Free public education to the age of 16
Facility of preferred access and also of lower-cost higher education in some international institutes of higher learning
St. George's University in Grenada is accredited as one of the best offshore American medical schools. it is attended by some 7,000 students from all over the world, and in fact 1 out of every 100 doctors in the USA is a graduate of St. George's.
Who is qualified to apply for Grenada Citizenship by Investment?
The program invites applications from foreign investors of good character and who are in good health, along with their dependent family members.There are no education or management experience requirements.
Grenada's official policy is not to place restrictions on any applicant or national, once they pass the due diligence background check.
Personal Qualifications
The primary applicant must have high net worth, and be at least 18 years of age
Have proof of funds, and show that the funds were acquired legally
The Government subjects every applicant 16 and older to a stringent background check, and all applicants must show:
They are in good health
Have no criminal record which, in Grenada, would result in imprisonment of 6 months or longer, unless they subsequently received a pardon
They are not currently under criminal investigation or investigation as a security risk
They have not been denied a visa to any country where Grenada citizens currently enjoy visa-free travel (unless the denial has, subsequently, been lifted and a visa granted)
Approved Projects in Grenada
The projects focus on hotel, villa, other luxury resort developments, and other projects such as the Grenada Sustainable Aquaculture Project.
The Real Estate Projects require investors to:
Invest a minimum of $250,000 and the investment amount will depend on the chosen project. Contact us for more details on this.
Maintain the investment for at least either 4 or 5 years (depending on the chosen project) during which time dividends may be paid to the investor
After the minimum period, the applicant may sell the investment at market value
The Grenada Sustainable Aquaculture Project (GSA) requires investors to:
Invest a minimum of $275,000 by purchasing preference shares in the project
Maintain the investment for at least 5 years. The investor may then either sell the shares back to GSA or a to third party surety company for the original investment price.
Another option would be for the investor to hold the shares beyond the minimum period, and then sell at an acceptable market value GSA's intention is to produce a positive cash-flow in 3 years, with a minimum return of 6%.
National Transformation Fund (NTF)
The NTF, established in 2013, finances projects which benefit one of the country's industries, such as tourism, alternative energy, and agriculture.
Contribute $200,000 to the fund, for a family of 4 (primary applicant, spouse, and two dependent family member)
A contribution of $25,000 for each additional dependent family member will apply
Application Process
The application process is speedy and straightforward. Citizenship is normally granted within 60 business days from application. All supporting documents must be in English with notarized copies, where appropriate. Application and processing fees must be paid at the beginning of the process.
Government and Processing Fees
The fees must be paid at the beginning of the application process.
For primary applicant, spouse, and up to one dependent: $50,000
For each additional dependent: $25,000
Application, Due Diligence, and Processing Fees
Regardless of the investment option chosen, the fees applicable to the Grenada Citizenship by investment are:
Processing fee for each applicant aged 18 and over: $1,500
Processing fee for each applicant aged 17 and younger: $500
Application fee for each applicant: $1,500
Due diligence fee for primary applicant and spouse: $5,000 each
Due diligence fee for each applicant 18 and over: $5,000
Due diligence fee for each applicant aged 16 – 17: $2,000
There is no fee for applicants 15 years and younger
---