The Schengen Agreement was signed on 14 June 1985, in the village of Schengen, on the borders of Luxembourg, France, and Germany. The founder members were Belgium, Germany, France, Luxembourg, and the Netherlands.
The main purpose of the Schengen Agreement was to establish common immigration procedures between the Schengen member states.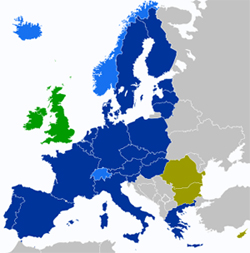 Some 5 years later, the Schengen Convention was appended and together with the Schengen Agreement, crated so called Schengen borderless zone.
The Schengen Convention allows free movement of European citizens within the Schengen zone across national borders without the need for visa or passport checks.
However, the EU has one external border at its outer limits. Under the Schengen Convention all members of the area share responsibility for policing the external borders by using a common information system called Schengen Information System (SIS).
The Schengen Information System allows customs, police, and justice authorities in the member states to share information about suspected criminals trying to enter the EU.
Presently, the Schengen visa free zone is a group of 25 states: 22 EU member states - Austria, Belgium, Denmark, France, Finland, Germany, Greece, Italy, Luxembourg, Netherlands, Portugal, Spain, Sweden, Czech Republic, Estonia, Hungary, Latvia, Lithuania, Malta, Poland, Slovakia and Slovenia; and 3 non-EU members - Norway, Iceland and Switzerland.
EU member states like Bulgaria, Romania, Cyprus, and Liechtenstein are expected to implement the Schengen zone rules till the end of 2014 and become full members in March 2015.
Please note that the UK and Ireland are not part of the Schengen area, even though they are EU members.
To be eligible for a membership in the Schengen zone, countries must meet tight regulations regarding borders, visas, police cooperation, and personal data protection. The set of rules dictating Schengen protocol is called the 'Schengen Aquis'.
The Schengen visa-free movement is guaranteed within a territory possessing 42,673 km of sea coasts and 7, 721 km of land borders, covering 25 countries and over 400 million citizens.
---